WAUS-FM is located on the beautiful campus of Andrews University in the cozy village of Berrien Springs, Michigan, nestled on the banks of the St. Joseph river.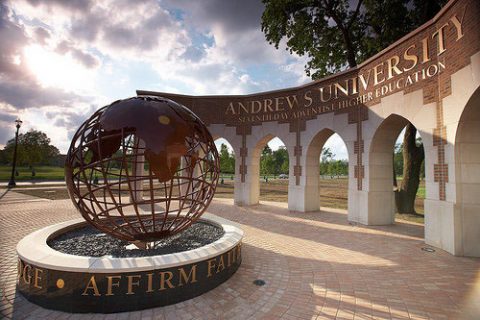 ​WAUS broadcasts from the John and Dede Howard Studios.  We depend upon partnerships with our listeners (memberships) and area businesses (underwriting) to stay on the air.
Our format is Classical Music with inspirational programming and news updates from National Public Radio (NPR). WAUS is one of Andrews University's services to the community, and because of our dedication to education, we hire and train university students in various aspects of the radio business. We employ students from all disciplines, many of whom are talented musicians and singers and are members of the orchestra, bands, and choirs.

​WAUS is proud to be a part of Andrews University, which is affiliated with the Seventh-day Adventist church. We broadcast the worship service from Pioneer Memorial Church every Saturday at 11:30am. The church is located on the campus of Andrews University.

History
1920--John Fetzer established amateur radio equipment at his home in Lafayette, Indiana.
1921--Fetzer was invited by Emmanuel Missionary College (now Andrews University) to transfer his wireless equipment to Berrien Springs, MI, where he went on the air with the call sign 8AZ, which eventually became WEMC.
1921-1929--For eight years, the station was known in Michiana and beyond as "The Radio Lighthouse." According to publications at the time, it was once listed as one of the ten best radio stations in the U.S. It was heard frequently in Europe, as well as in Hawaii, Australia, and New Zealand.
1930--During the financial difficulties of the Great Depression, the school sold WEMC to John Fetzer, who transferred it to Kalamazoo. Broadcasting at the college didn't stop, however. On and off for over 30 years students operated localized stations to serve the campus and the local community.
1967--Andrews University began planning for a new non-commercial FM station. Robert E. Upton of the Whirlpool Corporation headed up a capital campaign.
1971--Built with money raised from the community and a substantial amount provided by John Fetzer, radio station ​WAUS signed on in January 1971.